4 new images up:
I enjoy the contrast between an attractive mature face and a perfect curvy plastic body... I have a scene in mind with a nephew inheriting his uncle's estate complete with his android 'aunt' Olivia. She's connected to her core Turing drive ready to reprogram her fundamental role and personality foundation on transfer of ownership. Her well developed personality programming makes her a valuable unit, will he have her refurbished for sale or will he adjust her for his own use?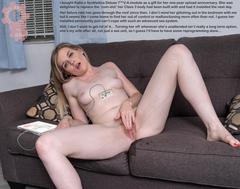 I'm a sucker for a pretty, pale redhead! I like the idea that, as a machine, her personal flaws and weaknesses are actually deliberately programmed features to better replicate the original. A change of hardware (wetware!) can easily upset the balance and require some adjustments...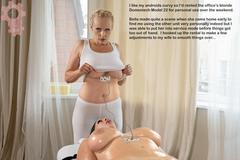 Some bigger, curvier units on display here...! Blatant objectification, the husband doesn't think twice about routinely reprogramming his robot wife for his own convenience. I like the 'rental' unit's expression, does the husband have access to make changes to her too? She doesn't seem too happy about what she's being told to do, does she sympathise with his wife or is she annoyed she might have to share him now she's home?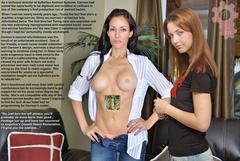 The idea of a classic android model appeals - clearly she needs a lot of TLC to keep operational but he feels she's worth investing in. Could she even be upgraded to a newer chassis or did the Synthetica line use a 'Betamax' method of encoding her personality?
Enjoy!