"Enjoying the view, Alex?"
Actually, I hadn't really been paying attention to the scenery. Now, I paid even less. I mean, I guess I could try, but it was hard to find anything interesting to look at when everything in front of my eyes was completely and absolutely dark.
"Come on, Jazz. I know it's you. I'd like to use my eyes now, if you wouldn't mind."
"You sure? Didn't look like you were using them."
"Well, now you're here, so I guess there's no better time to use them."
Jazz laughed and sat down. Even as one hand kept up it's job as a loose blindfold, the other moved to bring me to her level. If I were a little more careful, I suppose I could've managed a more graceful landing, perhaps resting softly on her lap, my fall cushioned by the softness of her thighs.
Instead, I was as clumsy as ever. Our descent was less graceful landing and more sudden plummet as the floorboards suddenly raced to greet my bespectacled face. As it was, Jazz and I found ourselves sprawled on the patio of the beach bungalow, the drone of the party inside fading into the background as I tried to get my bearings.
Of course, Jazz got up a lot faster than I did. A part of me, a lot of me, actually, almost wished she hadn't, almost wished that we could stay like that, the two of us pressed into one another, growing warm from each other as we watched the gentle caress of the tides against the pearl-white sands. Of course, that second bit might've caused me some problems since the fall had understandably made my glasses go invisible, but that's when Jazz came in.
I mean, I get to live with Jazz, but I still can't help myself. As she fitted my glasses back onto my face, my vision filled with a gentle smile, the sweetest pair of eyes softly welcoming me back into consciousness. I really wanted to focus on that expression, that tender warmth wrapping around me like an inviting fireplace and a pair of cozy slippers, but my eyes couldn't keep themselves from wandering.
Beneath her face was the rest of her. Of course, I know there was more of her, but it felt too awkward to keep looking down. Even so, I really couldn't help myself. The rosy rays of a fading sun, the flickering flames of an oven roast left unchecked after one too many drunken stupors, that mix of sunlight and fire gleamed down the contours of her body, tracing every curve in a race of flickering lights before finally exhausting themselves in the dark crevices between her arms, her thighs, and her…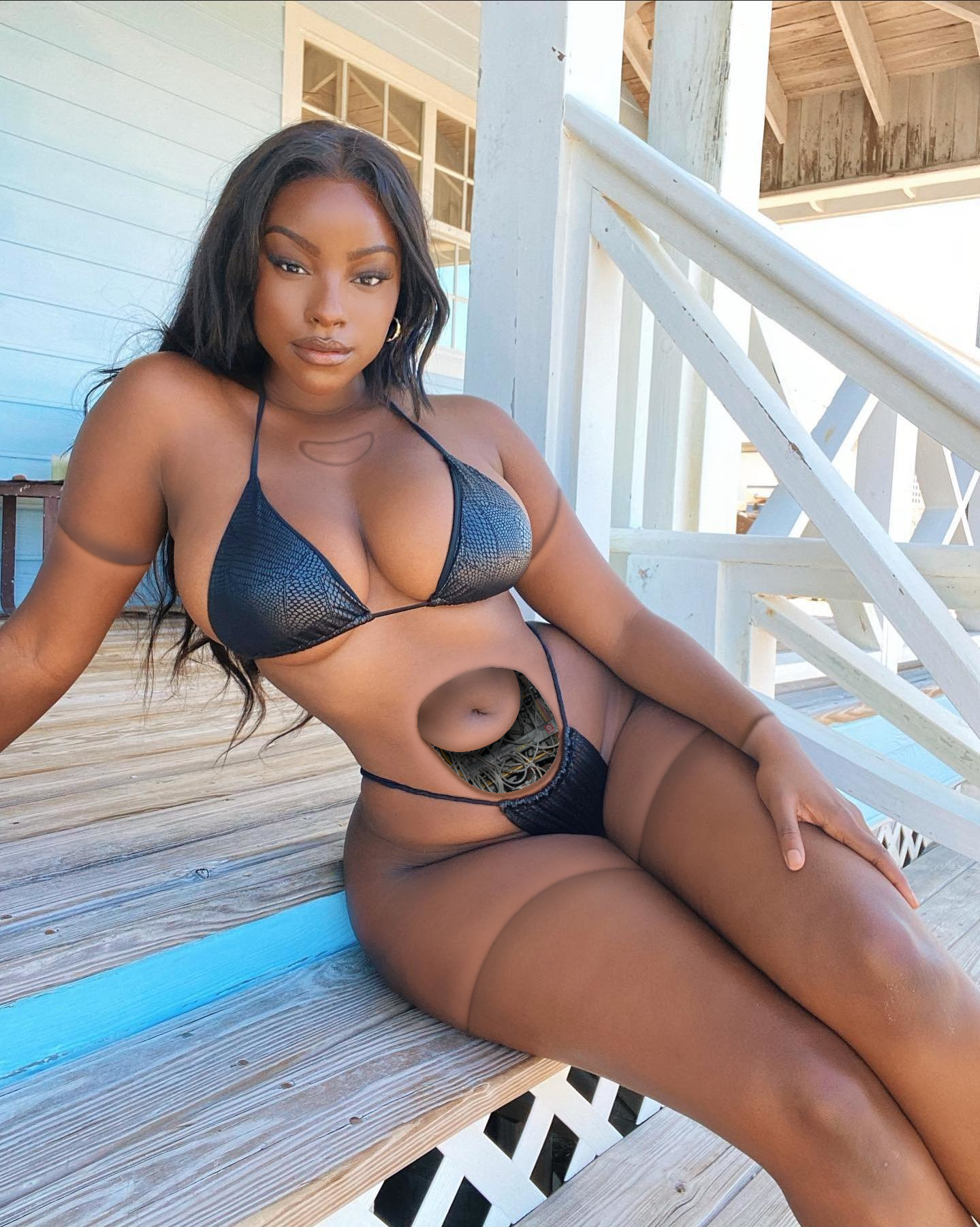 I shook the lustful thoughts from my head. Jazz, I mean Jasmine was right here in front of me. A few more naughty thoughts, and I think I might've started drooling. Like, just drooling, a drooling, slack-jawed idiot staring at a beautiful, voluptuous–
I mean, a kind, understanding roommate, an absolute goddess of a friend who I love and respect, one who has forgiven the worst of my flaws even when I still can't find the courage to own up to them.
Still, it was clear that Jasmine didn't mind. She even moved to recline luxuriously on the deck, really letting the (now significantly larger) kitchen fire turn every curve and contour of her gorgeous body into artwork. If I wanted, I could see right down her cleavage, even a scandalous peek between her panties where the fabric didn't quite keep the parts between her legs hidden. All throughout, her gaze was relaxed, her smile a playful yet comforting respite after a hard year of endless studying and relationship issues.
I could've stayed like this forever.
Just…
Just staring…
Just…
Just taking in the moment.
Jazz was the one to break the silence.
"What's wrong, Alex? You don't seem to be enjoying the party." Those pretty eyes searched my face for answers, her smile now fallen into worry. Even on a night like this, she was more worried about me than herself.
"I…"
Why did I come here anyways?
"I…"
I hate parties.
"I…"
I can barely stand other people. I know I can talk with them just fine if I need to, but actually opening up, finding people who understand that I don't find constant small talk the cornerstone of social interaction? It took so long to even get the courage to talk to Jasmine, and now…
"Alex, there's something you want to say. You may not think you need to say it, but you really should. It's okay."
She brushed a hand under my cheek. I hadn't noticed, but I was crying. Ever since I came out here, I've been crying.
"It's okay. I'm here for you, Alex. I'll listen."
Like the little baby that I am, I sniffled, barely holding back the tears. As I choked on my words, she put an arm around me. I wanted to hide in that hug forever. I wanted to hide, but she was right. I had to say it, if not for her, then for myself.
"I…I thought you would want tonight to be like this. I thought you'd want to end it in a really nice way, you know? A big party, a big celebration to cap off the year."
Her brow furrowed.
"Lex", she sighed. "You don't have to make yourself unhappy for me. I thought we went over this already. We're friends. If we're content with each other, then I'm happy."
"But you'll be gone after tonight. I want you to be happy. After tonight, I'll never see you again."
There was silence.
The sun had finally fallen, and the night brought with it a frightful chill.
Before the backlight of a roaring kitchen fire, Jasmine was a shadow outlined in glowing lines of heat, her expression unreadable. We had kept the issue between us, but it had always been simmering, stewing away in the back of our minds. It had been small, but the tinder kept growing, and the sparks kept getting closer, closer.
We couldn't ignore it anymore. Where flames did not reach, we had made a paradise, and it was good. I thought we could run away from it all, but sanctuary does not last. We could feel the heat around us, growing ever closer, ever larger. It had always been there, always burning. There was never anywhere to run.
Finally, Jasmine stood up. She had always been taller than me, so she had to bend down to offer her hand. I looked at it, not knowing what she wanted.
"Come on, let's go for a walk."
Away from the stifling heat and claustrophobia of way too many college students squeezed into a small space, the night air was a welcome respite. It was nice to just walk, to just be at peace, watching the world turn. Each step, I felt the pearl-white sands squirm beneath my bare feet, briefly clinging to my skin before scattering away. Every once in a while, the tides would run by, a brief jolt of cold water that sent me jumping. She would laugh that little laugh of hers, and I would laugh with her. The beach at night was beautiful, painted in the pale blue hues of a full moon, light falling and scattering into ripples, locked forever in the dance of flowing water.
Even in such a beautiful place, I could see the fire, now an inferno. For brief moments, I almost thought I could see the sun, and I felt afraid. I was afraid that it would soon be tomorrow.
Although we had walked quite a distance, I had blinked but once before we made it back on campus. Once our feet were secure on solid asphalt, Jasmine took off her sandals and shook off the sand. She never liked sand the way I did.
Still holding my hand, she led me all the way back to our dorm room. Rather abruptly, she excused herself to her room and locked the door. Not really knowing what to do, I waited outside her door for a few minutes before giving up and taking a shower.
However, before I could change into my sleepwear, Jasmine unlocked the door and walked out. In the time it took for me to clean off the previous day, Jazz had found the one set of lingerie more revealing and scandalous than a bikini. Where a bikini could only hide and provide support for her lady parts, bands of garter straps and lace could hug her well-proportioned butt and accentuate her firm, generous breasts into geometric perfection.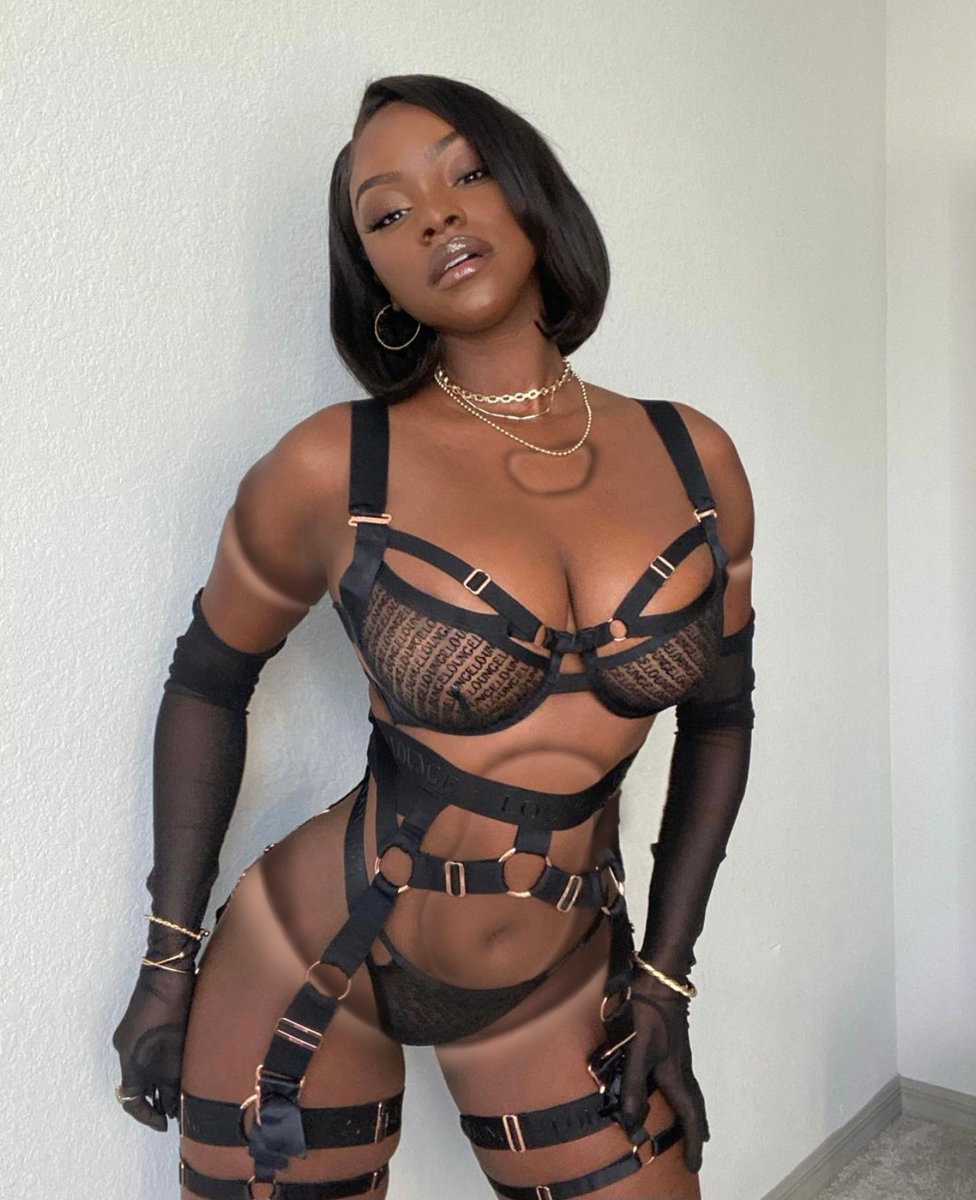 It was all I could do to avoid a nosebleed, and she made it a lot harder by pushing me into a wall, pressing those amazing curves right into my nude body. For a moment, I thought she wanted to have one last round of sexual intercourse before she left. Instead, she paused and asked me a question.
"Lex, what am I?"
I was confused. "What do you mean?"
"Lex, after all these years, after all the time we spent together, what do you think I am?"
It was all I could do to not get overwhelmed by her physical presence, but I managed something of an answer.
"You're Jasmine. You're the most beautiful, the most understanding person I've ever met. The time we spent together was the happiest I've ever been."
"Alex, what's my last name?"
"...I don't understand."
"Your last name is Smith. What's my last name? Who does Jasmine belong to?"
"You don't belong to anyone. You're Jasmine. You can do whatever you want to do."
Jasmine didn't answer immediately. Her eyes didn't quite want to read my expression. Even though her body was pressed right into my own, she now felt so far away, so very far away.
"Lex, we both know it doesn't work like that."
She was right, but I didn't want to believe her.
"Lex, press your finger into my belly button."
"..."
"Lex?"
"I don't want to."
"Lex, you know you have to. The night's not going to last forever."
"Please, Jasmine, let me pretend for just a little longer."
Jasmine grabbed my hand. I didn't stop her, not even as it met her stomach and started moving down. One of my fingers was pushed into the hole in her abdomen, and it kept going down until it met something hard and plastic. It wasn't a place that would be poked or prodded intentionally, and this certainly wasn't intentional on my part.
With a touch of resistance, the button went down with a hard noise. Somewhere inside Jasmine, a mechanical hiss sounded, and the skin on her stomach moved away in a series of clicking motions. I didn't want to look, but I could feel wires and dials behind the panel that was once her stomach.
I told myself those mechanical bits weren't there. I told myself that Jasmine was a person just like everyone else. There weren't any wires or dials. She was human.
Jasmine wasn't done, though. Determined to keep me rooted in reality, she kept moving my hand. Something other lever was pulled, and I could feel more seams opening up; those were her arms and legs, the segments of skin panel revealing the seams and indentations that revealed her unmistakable robotic nature.
Jasmine isn't a robot, though. She's Jasmine. She's my friend.
I kept my eyes firmly shut. If I don't look, I can keep pretending. If I don't look, she'll still be here tomorrow.
For her part, Jasmine was far more patient with me than she had any right to be. In spite of her almost divine patience, even she had her limits. I suppose that's why I suddenly found my eyes open and our lips touching, locked in a deep kiss.
When we finally pulled away, I was breathing very hard. Part of it was hormones, but most of it was from holding back tears. I couldn't cry again. Not now, not here.
"Lex, I'm the prototype of a new kind of gynoid model, the only one of my kind. I'm here so my company can gauge how my artificial intelligence will adapt to new environments, and how durable my chassis is outside a lab environment. Without constant maintenance and custom updates from a dedicated research team, I will fall apart."
"But I've been studying really hard! I have my degree, and I've been interning at a real IT company! If we can just find a good place to hide, I can keep you updated, and–"
Jasmine stopped me.
"Even if you could chase away the bugs in my software, what about the rest of me? Just tonight, I already can feel pieces of myself falling apart. You might be good at coding, but what about the rest of me?
"I bumped into a table and miscalibrated my right hip socket. Do you think you have instruments precise enough to adjust my legs so they don't fall off while I'm walking?
"Even when I wear thick, completely concealing garments, sand still gets into my vents, not to mention the salt water. You really think you're going to keep my circuitry clean when we live right next to a beach?
"And don't get me started on the viruses. I had to plug into the bungalow's router for an emergency update, and so many viruses got through that unsecured piece of garbage that I could feel the malware tearing into my mind before the technicians fixed the issue. Do you really think you're good enough to design and update an entire antivirus suite on your own?
"Before you try to get clever, remember that I'm a custom model, mind and body. I don't technically exist yet. No body shop can get replacement parts for this chassis, and no technician knows how to fix the spaghetti code in my head."
She was suddenly shouting.
"I know you really want to keep me around! I really like being your girlfriend! But this experiment is over, and I have to go back! Look, you can't keep me alive, so you just have to–"
Jasmine stopped before her tirade could really start. There was no stopping the tears now because she was right. No matter what I do, there's no way I can become an entire team of technicians and repairmen. It was over.
I say I was crying, but, in truth, we were both crying pretty hard. We found our way into each other's arms and really let loose the waterworks. Mindful of all her seams and open panels, I tried my best to keep any liquids from getting inside and making our night even worse.
It was a long time before we stopped crying. Somehow, we found our way to my bed. The two of us sat there for a while, just staring out the window, watching bunches of small dots and flashing lights swarm around a dwindling bonfire.
"I like being alive."
"I like you being alive, too."
"They're going to take me apart and break my memories."
"I don't want them to do that."
"I want to keep you here."
"When I'm gone, will I still dream?"
"I'll always remember you. Every time I fall asleep, I'll remember our best times together."
Jasmine choked back her emotions. "As long as I can, I'll think about you."
For what seemed like the last time, we embraced. Just the two of us, deeply in love, living in our own world, trying to block out reality. Both of us did our best to take in as much of each other as possible, to root the memories as firmly in our minds as possible.
With each passing moment, stretched into lifetimes and snapping back into seconds, the night moves ever closer to an end. Soon, the sun will rise. When it does, the dream will burn away.
Please…
Just a few more seconds…
Please…