Cherry 2000? No way.
Why have the client ride past the selection of fembots, posed, frozen? That showroom was a mash-up between It's a Small World and The Hall of the Presidents. Fembots are lovely when they walk around, let the customers sit.
I couldn't find a more recent picture of this sort of luxury, private dress showing with models.
A luxury car dealership (chop off the right half of the picture).
This is the Moonlight Bunny Ranch showroom.
In addition to enjoying Cory Chase's fembot sexiness, I like the decor in Cory's playhouse - it's not far from what I imagine a fembot viewing suite might look like.
Visitors to the dealership will be a Paris Hilton wanna-be party girl and her less wealthy, more responsible BFF. The products have paraded around and just left. Paris is sitting, sipping champagne and giggling with BFF, looking at magazines and their phones, when the saleswoman comes back to answer questions.
What additional props could signify the room where two very rich friends go to view fembots to purchase? I think this is a Westworld logo/patch from the original, so it won't help.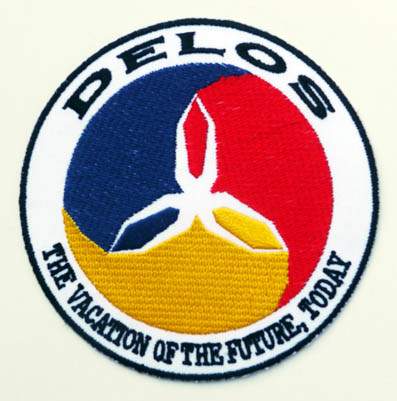 I'll look to what HBO creates, for their sense of appropriate style.
- Dale Coba